A revolutionary sanitizing system has won the backing of three of the biggest name in the food industry, paving the way for many chemical sanitizers to be removed from the food preparation process.
Marks and Spencer, Young's Seafood's and Vion Food have given the Biotek Ozone sanitizing system the green light after one years of exhaustive tests proved the system "unrivalled at sanitizing food and food processing equipment and the work place", according to the company.
The system has been given "approved terminal sanitizer" status by the High Street food giant and both Young's and Vion are introducing the ozonated water system to their processes to boost their hygiene levels.
Vion, which supplies chicken and chicken products to Marks and Spencer, was already on the lookout for improved hygiene methods when they were alerted to the Biotek ozone system by M&S.
John Dunphy, Vion Food Group Technical Manager, said: "We were looking around the hygiene industry to see if there were any innovative methods for eliminating Listeria. The Biotek system impressed for its ease of use, mobility, effectiveness, health and safety and environmental impact.
"We expect to see reduced incidence of Listeria positives, less use of chemicals, cleaner effluent and to better meet customer expectations on Listeria management."
A further bonus is the short payback term. By reducing chemical use and producing cleaner effluent, Mr. Dunphy expects the system to have paid for itself in just 18 months, with ongoing savings thereafter.
Hailed as "the most cost-effective and safest way to destroy bacteria", the system kills virtually all germs and reverts to nothing but clean water.
Pioneered in the UK and developed in the Far East, the Biotek Ozone system has already revolutionized food preparaion areas in the US, Australia, Asia and parts of Europe; ozone is the world's strongest food-grade antimicrobial agent. It has already been given the backing of organic watchdog. The Soil Association which cleared sprout producer Sky Sprouts to use it in its production processes after the salmonella scare in Germany which resulted in 37 deaths. Sky Sprouts were the first commercial food producer to gain clearance for using the system in its organic production.
Biotek UK Managing Director Colin McArthur said: "The system is already in use in many parts of the world and is approved for use in food production and hospital hygiene processes in the US, Australia and most of Asia so it was only a matter of time before the UK recognized how effective it is in food production here.
"Clearly we are delighted that we have achieved M&S and to reach this level of accreditation for a non chemical sanitizer is a fantastic achievement for all involved at Biotek, As well as demonstrating the required kill rates and log reductions, we were also able to allay the fears of many people previously sceptical about ozone by clearly showing that our equipment is totally safe to use and that our method of ozone generation causes no concerns with corrosion of equipment, unlike many of the chemicals currently in use.
"We now expect that virtually all the major players in the food industry will introduce Biotek's ozone generators to their processes in some capacity given that it can greatly reduce energy and water consumption as well as reducing trade effluent."
The Biotek system is being introduced to the UK & Ireland with none of the drawbacks previously associated with traditional Corona Discharge systems. Passing water through the Biotek Ozone fully patented electrolytic system provides the most world's most effective disinfectant and sanitizer without leaving a chemical residue, flavor or smell.
And the Biotek equipment has only one byproduct-oxygen. After it destroys bacteria and viruses, ozone reverts to oxygen, making it possibly the most environmentally friendly sanitation method ever devised. America's Food and Drug Administration has given the Bioek system clearance for use in food preparation areas across the US in a bid to cut preventable death and illness from food poisoning.
A 20-second handwash simply with Biotek ozonated water kills 99.999% of all bacteria, including e-coli, Staphylococcus and Salmonella and MRSA. When used in food preparation, Biotek ozonated water kills bacteria and parasites and decomposes pesticides on food surfaces, slowing food decay and extending shelf life.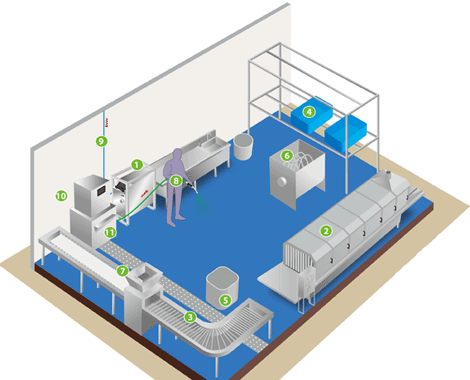 Ozonated Water System for Terminal Sanitization
Reference: International Sandwich & snack news Issue 138 - March 2012